Eva Longoria's Casual Ponytail
Ponytails are a great way to disguise a bad hair day in a matter of minutes, but sometimes they can look, well, boring. Eva Longoria's ponytail on the other hand is anything but. Her ponytail is casual and chic, and a must-know style for every woman who needs a quick way to look fresh and youthful.
This ponytail will work best for long hair, but medium hair lengths will work too. First, backcomb your roots at the crown of the head, and then smooth the hair from the hairline backs towards where your ponytail will sit.
Then, pull the rest of the hair back into a tight ponytail, making sure the sides and back are taut against the head. Finally, secure your entire ponytail near the top of the back of the head (the middle looks more 'sporty'). For extra glam power, take a small section of hair from the bottom of the ponytail, wrap it around the elastic and secure it with a hair pin.
You don't need Eva's stunning looks or gorgeous thick hair to pull this style off, but one thing is for sure—you do need a lot of hairspray!
See more Eva Longoria looks here and try the hairstyles on with your own photo using our Virtual Hairstyler.
Salma Hayek's Sun-kissed Tips
The recent trend of celebrities flaunting hair with the grown out roots look usually involves brown roots that fade into light blonde ends in a subtle and natural way (if it's done correctly, that is!) Salma Hayek has also caught onto this trend, but instead of going blonde, she has added golden brown tips to the ends of her dark espresso-hued locks. These two shades flatter her olive complexion and also match her eye color.
Salma keeps it looking real by using very thin sections for the highlights, which start at various areas on the head to avoid the dreaded "band of color" look that can sometimes result from this coloring technique. The result? Her hair transforms from espresso to honey brown naturally, which is perfectly highlighted with her Charlie's Angels-inspired 'do.
Her hairstyle is easy to achieve if you have long hair with hair layers than begin at the chin. Simply use large hair rollers to curl the hair outwards from the head, then break up the curls with your fingers or a comb and spray in place with hairspray.
You can also do a DIY version of Salma's color technique by using a home highlighting kit, however the color and placement is tricky to achieve, and is probably best left to a professional!
See more Salma Hayek looks here and try the hairstyles on with your own photo using our Virtual Hairstyler.
The Best and Worst Hairstyles from the 2011 Golden Globe Awards
The 2011 Golden Globe Awards saw a return to old school glamour with many celebrities choosing to style their hair with old Hollywood flair.
Volume filled buns, retro curls and super stylish dresses dominated the night, and as usual, there were those who missed the mark completely, either by choosing the wrong outfit or by under styling their hair. See below for our picks of the best and worst hairstyles.
Best and Worst Updo...
Natalie Portman and Scarlett Johansson
Perhaps still in ballerina hairstyle mode from her Golden Globe winning turn as Nina in Black Swan, Natalie Portman hit the red carpet with this very stylish updo. Not only was her bun perfect for her strapless dress, but it also showed off her gorgeous face (complete with pregnancy glow). Scarlett Johansson, on the other hand, unfortunately let her hair frizz fly and it ruined her whole upstyle look. As a star with one of the better dresses of the night, her hairstyle really should have been much smoother and polished to reflect her beautiful look.
Best and Worst Curly Hairstyle...
Dianna Agron and Helena Bonham Carter
Dianna Agron is quickly becoming one of our red carpet faves. She always has her hair and outfit spot on, and her Golden Globe ensemble was no different. Her take on retro curls was one of the best of the night and we absolutely love her dress! As for Helena Bonham Carter, she obviously missed the memo that curly hair should be defined and soft, not frizzy and ratty! But at least her horrible hairdo matched her horrible dress...
Best and Worst New Look...
Sandra Bullock and Emma Stone
While Sandra Bullock has sported bangs in the past, this heavy cut fringe really made a difference to her look and sparked plenty of buzz on the 'net. We love the look! Another new look that made us do a double take and check the name on the photo was newly blonde nominee, Emma Stone. The normally ravishing redhead looked unrecognizable as a bottle blonde and the color is way too pale for her skin tone - although that particular shade of blonde hair color seemed to do more for her skin tone than the color of her orange dress!
Best and Worst Short Hairstyle...
Halle Berry and Tilda Swinton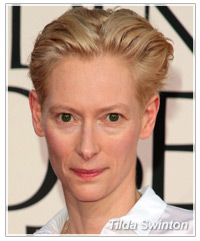 With a short hairdo being one of the easiest lengths to style, you'd think these ladies would have their short hair looks in the bag. But of all the short 'dos there, Halle Berry pulled off the sassiest, while Tilda Swinton looked like she'd washed her hair, brushed some hair gel through it and then didn't care how it looked after that.
Best and Worst Mid-Length Hairstyle...
Milla Jovovich and Elizabeth Moss
There's a lot of versatility when you have mid-length hair so it was great to see Milla Jovovich taking full advantage and styling her mid-length hair into this great curly side-swept hairstyle. For her mid-length look, Elizabeth Moss seriously under styled with her very casual looking 'do.
Best and Worst Long Hairstyle...
Sofia Vergara and Angelina Jolie
While this long curly hairstyle from Sofia Vergara doesn't stray too far from how she normally styles her hair, if the look is a winner (which we thinking it is), then we agree that she should wear it all the time! As for Angelina Jolie's long hair look, it was far from the kind of glamorous, refined and polished look we'd expect a star of her caliber to flaunt.
Keep an eye on our new hairstyles for the chance to try these great celebrity hairstyles on your own photo or a THS model very soon!
In the meantime, let us know what you think about these hairstyles by leaving a comment below.
Must Try Hair Color Trends
When a fabulous new look is what you want, a fabulous new hair color is all you need. But a great new hair color is not just about picking the most appealing color on the box, it's about choosing a hair color that is going to give you a look that makes you feel great and your hair look gorgeous.
Give your look the ultimate transformation by trying out a hair color trend that steers clear of flat, boring color and draws attention to your locks in the way they deserve!
Blondette Hair Color
Is it a light brown hair color? Is it a dark blonde hair color? It doesn't matter because this fabulous color is in a league all of it's own! From the subtle mix of golden tones to the pretty glossiness of the warm buttery color, we just love this blondette look, so take your cue from Katie Cassidy and try this stunning option today!
A Hint of Red
With the likelihood that red hair colors are to stay for awhile (at least until Rihanna changes her hair color again), there are lots of great options to choose from but we prefer the kind of red hair color that glistens in your hair in the right light and gives a dark hair tone some extra oomph and life, such as this color from Ashley Greene.
Dip Dyed Ends
One way to get low maintenance hair is to choose a hair color where regrowth is not a problem! By mixing a different hair color through your ends, à la Kathryn Hahn, you'll not only create a hair color that is very low on the up-keep factor, but one that looks natural and creates plenty of interest. Stick to blondes and browns for a subtle look or try bright tones for some added funk.
High Shine Dark Hues
Nothing says great hair like high shine. For truly shiny hair though you have to go as dark as possible, which can sometimes leave you with a flat, boring hair color. For a great look like Lucy Hale you need to make sure your dark hair tone has plenty of warmth in it to bring your color to life, and that your locks are healthy enough to give off a great shine!
To see how you'd look with any of these great hair color options before you book with your hairstylist, click on each image to try the virtual hairstyle with your own photo!